Welcome Parents of Kidpreneurs!!!
July is all about giving back to the kids and inspiring them to be all they can be!  When I was 12 I wanted a phone line in my room! (I know 6 year old children have iphone's now LOL but not back then!)  My Dad told me I had to work to earn the money and I needed a way to do that and that started my Entrepreneurial Career! I bought my first house at 19, started my first company at 20 and have built and sold 4 successful businesses as well as a stellar Direct Sales career too.  It all started from the inspiration as a child and I want to give back to our youth! Recently I spoke at my son's former high school about being an Entrepreneur, I heard from parents and kids alike about how inspired they were and I knew we needed to keep the entrepreneurial flame burning bright and told my Facebook Group the Entrepreneurial Rock Stars what I was going to do.  They were excited to participate and invite their own children in to talk to successful business owner's, ask questions and share their ideas.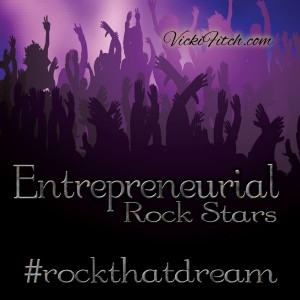 Although the platform is inside Facebook to allow the Entrepreneurs easy access to the questions, we will also be going over all forms of Social Media including the favorites of each age group like Snap Chat, Instagram, etc. and will be doing some live Periscopes & Google Hangouts to help them get acquainted with the power of social media and the right way to use it. Originally it was only going to be for a week but with holidays and vacations and the amount of kids their are out there that want to start their own businesses, that just wasn't enough time so July is the first annual Kidpreneur month.  Dedicated to helping our youth to turn their passions into profits! A full schedule of events will be emailed out on July 1st and the first week will consist of the kids coming in and introducing themselves to the group and sharing their ideas.  It will continue on with guest trainers in all different industries that will inspire and motivate the next generation of entrepreneurs while sharing their wisdom and success with the kids! If you are here to register yourself or your kid to get in on the fun, enter your information below.  You must be 18 to sign up or have your parents permission.
If you were just coming to check us out, we are glad you are here!  If you are interested in being a speaker or have a prize you want to donate to the kids,  put your info below.  We will be sure to include you in our Daily Shout Outs and have each ERS (Entrepreneurial Rock Star) member and KRS (Kidpreneur Rock Star) if they are on social media – Shout, Tweet & Scope about your generous donations.  We appreciate your support and look forward to helping you #RockThatDream
We want to recognize some of our prize donors and contributors like Kidpreneurs.Org. This is an amazing organization focused on helping kids develop their entrepreneurial skills at a very young age.  Where they believe "It is never too early"  Check out this video for a glimpse into their mission and GET THEIR BOOK HERE!