This is the scoop on the Periscope Super Hearts Scandal – What you NEED to know!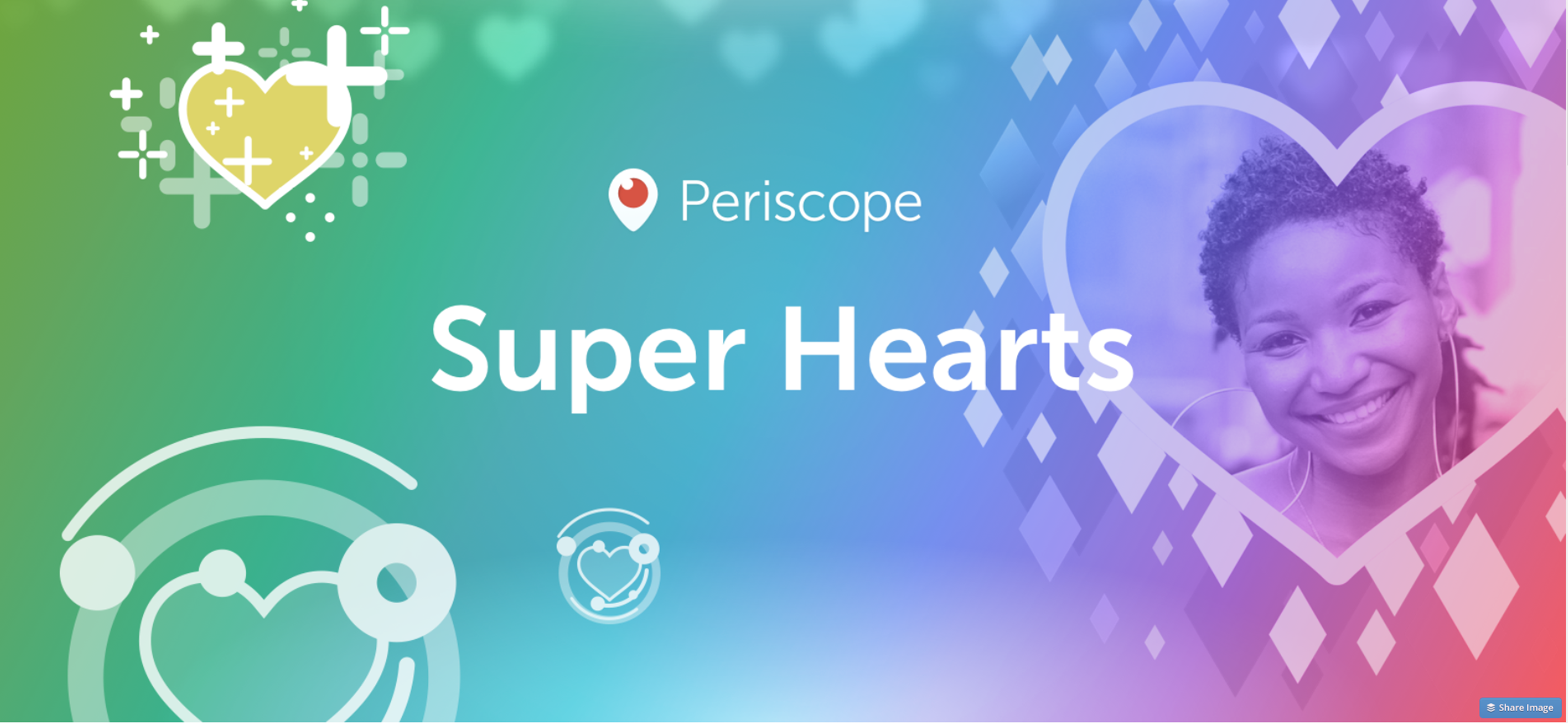 Included below is a Live dual stream I did on both Facebook Live & Periscope sharing the new Super Hearts program in detail.  Now if you want a good laugh you should DEFINITELY watch the replay because honestly it was a FUN scope with lots of laughs a few trolls and a LOT of information delivered in my typical style. The bottom line is you need to KNOW the facts so you can make an informed decision.
A quick recap in case you don't know what Super Hearts are. They are a new way to recognize your favorite broadcasters on a monetization platform. The thing you need to understand is WHO is really making the money.
I saw a bunch of broadcasters yesterday with titles like "Periscope is going to PAY YOU to broadcast" which just so we are clear, unless they have some other deal with Periscope directly is not actually the case. The truth is your friends, family & followers can purchase Super Hearts to share with you during your broadcasts which there is a chance that you could at some point, someday receive a portion of if you jump through 3 hoops, do a back flip off the high dive and land in the water with almost no splash.
Am I exaggerating?
Yes, but it isn't as far off as you might think. Let me explain…
As mentioned before people can purchase Super Hearts and give them to you during your broadcast. Great! Those Super Hearts, convert to Stars (Why? No idea) which then MAY or MAY NOT be able to be converted to cash at some undisclosed time in the future. You think I am kidding but I am not. I actually read the entire Super Broadcaster Program Terms and read them aloud with hilarity in the scope above. I recommend you watch it while you can!
Let me break it down a little further. Your fans think they are buying Super Hearts to reward you for a great scope but the reality is that you have to accumulate 185,000 stars (which is equivalent to approximately $175 according to Tech Crunch's article) in order to APPLY (just apply!) for the Super Broadcaster Program. Just so you know the disclaimer that is included in Section 2 states…
We may approve or deny any request to redeem Stars, in our sole discretion. We may also revoke any Broadcaster's eligibility to redeem Stars for monetary value at any time, also in our sole discretion.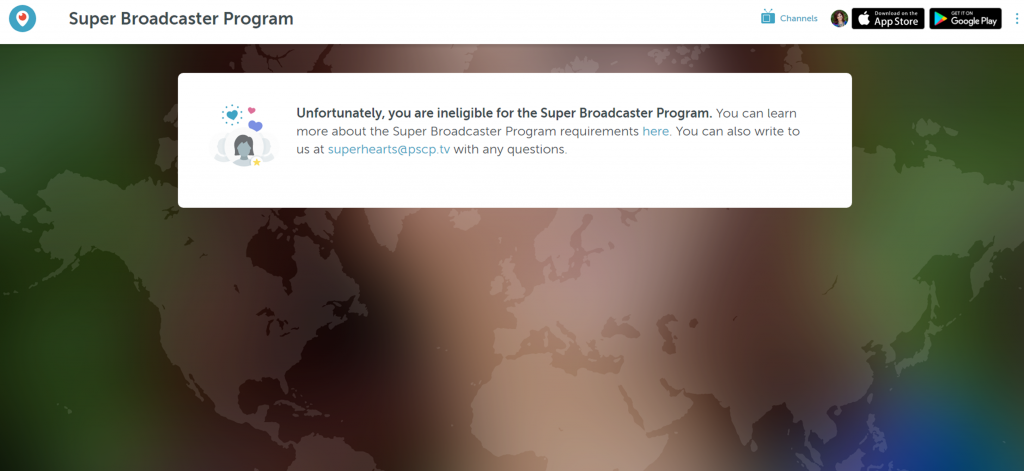 Here's what happened when I applied…
I don't have 185,000 Stars yet
no one does…
So when we break that down… once you get people to spend the $175 for your proverbial "application fee", they may or may not approve your application to receive the money that your Super Fans wanted to bestow on you because they enjoy your content.
What?
I know!
So here is my get to the heart of it recap…
This is a gamified cash infusion for Twitter/Periscope
That is it.
There are a few Periscope superstars that might be able to pull off making a little money here but it will likely, if they implement some of their "sole discretion" options be for few and far between.
Now that I've said that… get over it.
Yes. I actually said that and I meant it.
It is OK for Twitter/Periscope to do that. They are a business and one that has not exactly been raking in the dough as of late and needs to do something to increase their revenue stream. Businesses have to pivot and if this is the way they keep the platform stable then fine. I don't have a problem with it. I don't even have a problem with their terms… WHAT? No I don't, because they are clearly spelled out. I didn't need anyone else to interpret them. They basically said.
"Let's play a game…
you give us money,
we will give you
some fun shiny objects
to share with your friends
and if they are really
rockin' it on their scopes,
we might share and
give them a little piece of it."
I can live with that. I don't love that and wish it was different, but I LOVE the Periscope platform. It has been very good to me and helped me  meet some incredible people like Ted Rubin Rubin. It helped me engage new clients in 6 different countries and secure speaking engagements all over the world including New Zealand! Thanks Wanita Fourie! And the best part of all some amazing relationships! I am leaving tomorrow morning to speak at Social Media Day Denver with Joel Comm, Kim Garst, Erin Cell, Bryan Kramer, Courtney Smith Kramer, Mia Voss, Leslie Nance, Chocolate Johnny and more… I met these people because of live streaming and many of them directly through Periscope (then Blab – Long Live Blab) but the point is, you can make the best out of whatever is given to you and here we have an app that is still FREE!  You do not need to participate in the Super Hearts or the payment options. You can still join in for free and tap to your hearts content without spending a penny.
So don't complain, be bitter or call it a scam… It isn't.
It is a business that is pivoting to stay afloat and letting us have some fun while they do it.
For those of you who gave me Super Hearts today… I thank you. I think it is sweet and the gesture itself is truly appreciated. Thank you for taking the time to visit my broadcast and support an app I love. I appreciate your efforts, your time and your initiative. Don't feel foolish or let people tell you… "You are stupid for doing participating" or "You MUST participate".  Ignore them. This is your life, it is your money. If you want to bless your friends, do it without expectation that someone will receive something from it.
Choose to see the positive in everything. Just go in with your eyes open. When you know the facts, you can make an informed decision and that is all I intended with this post. If you aren't following me, please feel free to do so. You will never hear me saying we aren't going to start until more people are here or that I won't give you content until you do something. I promise I will welcome you with open arms (even the trolls!) because we are part of a family. A crazy mixed up, jumping through hoops and backflipping off the high dive kind of family. So jump on in… the water is fine. We will be here to catch you!
For my regular followers, no post would be complete with out this…
And until next time I want to remind you, like I always do…
Dream it, Believe it, Achieve it!

 – Ciao