Are you READY to build your list?
I always find one of the best times to do something new or to make a change is on the 1st…
The first of the year, the first of the month, the first day of the week, etc.  So guess what?  If you are reading this the day I posted it, today is that day! June 1, 2017.  If you are reading this any other time, it is still the first… The first day of the rest of your life so no more stalling (that's right, I called you out on it!), let's get busy and build your list!
You may already be familiar with Nathalie Lussier and her 30 Day List Building Challenge. We like to focus our list building efforts at least 2 times a year to keep our list fresh and inviting. New life comes to your list and your groups when you have new and excited people participating so let's get busy TOGETHER and build your list so you can live the life of your dreams.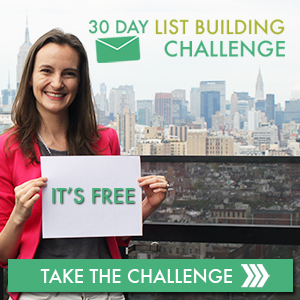 If you are saying to yourself… "I don't have time" I have a few things to share
If you are business, you don't have time not to
If you WANT to be in business or stay in business this is the fastest, easiest way to achieve that
Today's lesson only takes less than 5 minutes. (including clicking the buttons to sign up)
So do yourself a favor and take 5 to lead you to the life you have been dreaming of. The one you aren't sure is possible… IT IS!  I PROMISE!
I also know as a serial entrepreneur that sometimes you feel alone or afraid to try something new. Don't be afraid. YOU ARE NOT ALONE!  Join us, let us help you celebrate, build your list and build your business!  Today is the first day for you to… (you fill in the blank) so click the link and GET IN HERE! Let's do this TOGETHER!
By the way… Do you like FREE GIFTS? I know I do. And I am a firm believer in incentives encouraging participation.  Nathalie knows that too and she is offering some prizes during her 30 day challenge, but if you are part of my Entrepreneurial Rock Star Group you get to double dip because I am giving away prizes too!  So do yourself a favor and click the big button above to join the challenge!  It will give you a chance to join the 30 Day Challenge, the Facebook Group and a couple other common options as well.  Click whatever you are interested in and meet me in the Facebook Group where I will offer you some daily tips & tricks to help build your business & #RockThatDream & #RockThatList
Remember…
Dream it, Believe it, Achieve it!
– Vicki