If I told you that your next call would be the $50,000 phone call would you make that call?
Of course you would!  If the outcome is already determined it is easy to take the next action steps to getting what you want and need.  When it takes work and commitment, some will drop off the radar while others will plod along and make some headway but if it takes more than 3 tries, most people will give up all together!  Statistically speaking it often takes a MINIMUM of 6 attempts and sometimes up to 17 contacts to convert a lead into a sale, so let me ask you… if you knew you were going to make a $50,000 sale, would you call 17 (appropriately spaced) times?  YES you would!  If you knew $50K was on the line you would be silly, (or lazy) if you refused.  I hope my experiences will inspire you to make your $50,000 call.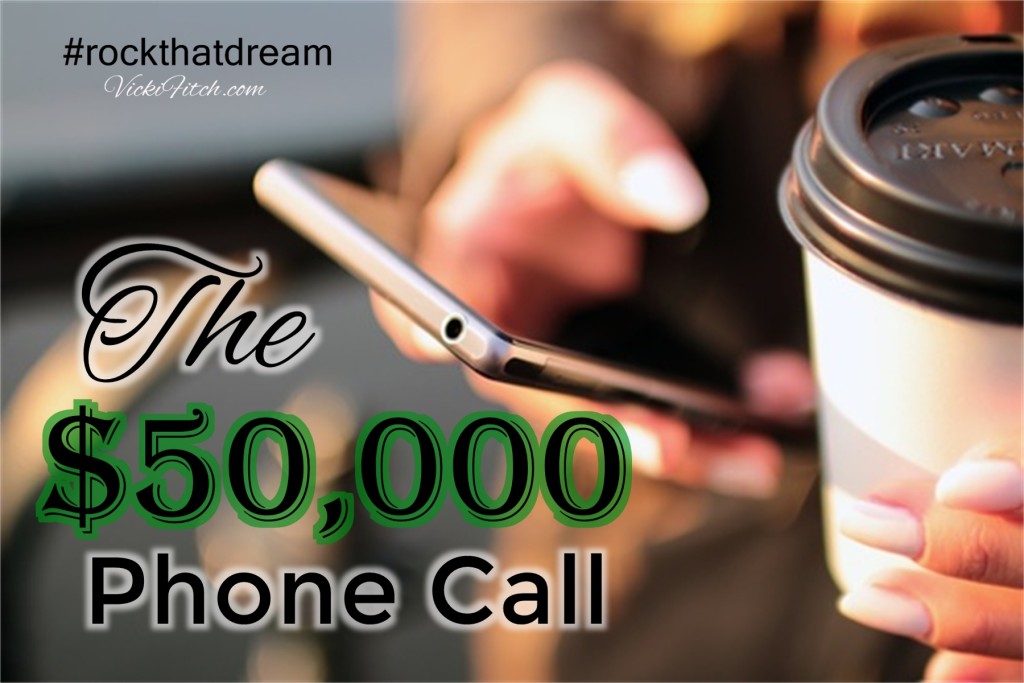 As part of my business in the direct sales industry, besides all the In Home parties/presentations with hostesses, I participated in trade shows, home & garden shows, fairs, and a myriad of other events where I met people, that may or may not have purchased something  from me, but they signed  up for my mailing/email list.
So before I go on with the story, I want to ask you what you would do (or what have you done in the past)?  Would you follow up with every person on the list or randomly decide they don't want to hear from you and tuck the list away and hope they contact you?  Statistics show that only a small percentage of representatives ever follow up after those events and the ones that do, only follow up ONCE!
Now I don't need to tell you that people, including you, are busy!  The pace we live at these days is 5 times faster than it was 20 years ago.  Technology has allowed us to be in constant communication with something so we tend to have limited time on our hands.  I have two points to make regarding this statement.
For many that is their excuse for not following up (I don't want to bother them)
You need to separate yourself from the pack to be noticed and appreciated.
*** HOT TIP *** I have a FREE detailed schedule that will be part of next week's blog post!
People are busy, there is no doubt.  But they also have a need for quality products and services and certainly for quality representatives to share those products with them.  If you believe in your products and services then it is your duty to provide potential customers with all the information they need to make an informed decision.  (If you don't believe in your product, then we need to talk and help you find something you are passionate about.)
Your assumption should always be that they filled the information out for a reason and you need to provide professional follow up until you find out how you can serve their needs.  I once followed up with a customer for 2 years before she finally was able to attend an event and purchase my products!  She ended up being a very loyal, frequent buyer and attendee at my events.  She also became a raving fan and referred many people to me including customers, hostesses and team members.  I could have stopped at the first call but that would have been doing a disservice to myself, my company and the customer.  This was at least a $5,000 phone call and soon you will read about the power of that extra 0!
Professional follow up is a sales person's best tool.  Since you already know the majority of representatives do little to no follow up.  You making the effort to follow up multiple times is already separating you from the others and if you throw in the added touch of a Thank You or Nice to Meet You card, you have put yourself among the elite in your field and you will be remembered.
I know you are reading this to find out about the $50,000 phone call so let me share the details with you.  They may sound insignificant which is why it should impact you so much.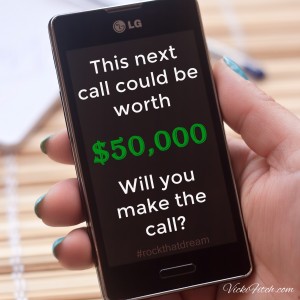 In sales, our job is to make sure others know what we do without us having to talk about ourselves all the time and I carried around a "Brag Bag" which showcased photos of my children (this was very strategic and I have some excellent training on it so click here and put a note about "Brag Bag" in the comments if you are interested)
On this particular day on my way out of church, a young lady said to me, "I love your bag" and I said "Thank you" and shared what I do, gave her a 2 part card, gathered her information and said I would send her some information on upcoming events.
For most people that would have been it.  It was a very brief encounter of casual interest.  Instead of just adding her to a list, I picked up the phone and called her to say I was glad to meet her, to personally invite her to an event and to ask her some important questions so that I could service her as a customer.  She was excited by the phone call, not annoyed.  I continued to follow up with her probably 5-10 more times before she finally made it to an event and she felt privileged by my professionalism not pounced on.
She ended up joining my team, becoming a top producing leader and built a thriving team of her own.  The financial impact of that one phone call was around $50,000 but the impact that call had on the lives of her and her future team were priceless.
My point is that no matter where you meet people, do them the service of following up.  An interest may start out casual and it may blossoms into a huge opportunity. Your attitude and consistent effort can set you up with the reputation of a professional or leave customers disappointed or worse yet not even remembering who you are.
I hope you found inspiration here and that you catch us again next week as we discuss your fear of the phone and my proven, easy to duplicate, follow up schedule:
In closing I want to say that I do realize that every industry is different and each event may have different criteria so if you want to talk specifics I would be happy to do a 20 min call with you to answer questions based on your industry!  Click here CONTACT ME and we will get that scheduled right away.
Believing in You!
Dream it, Believe it, Achieve it!