Have you ever…
Felt there weren't enough hours in the day to handle the tasks on your To Do list?
Been late on a bill, lost important paperwork or forgotten about an important appointment?
Forgotten to send birthday presents or cards?
Missed deadlines?
Paid overdraft fees because you forgot to stop by the bank to make your deposit?
If any of these situations apply to you or you just struggle with juggling your family, life and responsibilities, this is the course for you.
The Rock Star Guide to Gettin' It Done is a Step by Step Organization & Execution System designed to help you Get It Done!
As a Serial Entrepreneur running multiple companies, everyone always asks me how I can get so much done in a day so I created a course that includes 5 Robust Modules + BONUSES! that each include:
…that break it down into bite sized steps to keep you in check, on course and Gettin' It Done!
This course will SAVE YOU TIME & MONEY.
It will also save you frustration and embarrassment by creating a Daily, Weekly, Monthly and even a Yearly system that's SIMPLE to do and EASY to execute.
So join me and the many other Rock Stars who know how to Get it Done!
to the new, organized and efficient Rock Star inside you!
7 Ways to Close More Sales With Confidence
Digital Duo with BONUSES!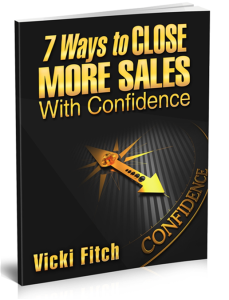 Want to Close More Sales with Confidence?
This Digital Duo includes the book in Digital Download  and  Audiobook format PLUS includes 3 BONUSES!
An infographic Cheat Sheet to keep the information easily accessible at all times.
A Mastery Checklist and worksheet to help you identify which skills you have mastered and which ones you are still working on and a Closing More Sales with Confidence Appointment Worksheet that gets you prepared for your appointments, poised for your presentations and sets you up for success when closing your sales.
As an industry expert I am providing you with the tools I use to stay on top of my game and to help you in the areas of CONFIDENCE, asking questions, overcoming objections, closing sales, follow up and more.
If you want to confidently step up your game, improve your closing percentage and increase your profitability, click the button below to get IMMEDIATE ACCESS to these tools and let me help you #RockThatDream
FACEBOOK Training Course
Want to understand how to effectively leverage Facebook as a way to increase your visibility, sales and customer connection?  This is the course for you.
With over 1 Billion monthly users, this is a starter platform for almost all businesses and the hub in which you can build your social media presence.
This course will give you step by step and detailed instructions on how to create and maintain Profiles, Pages, Groups and includes bonus segments on creating Events and Lists!
And Super Bonus cheat sheets to help size all your social media and the Rock Star Guide to Social Media. This course is a MUST HAVE for every business owner.
You NEED a presence on Facebook and this is the DIY way to get it.